Saving .EML files to a folder
In this document we are going to discuss how to save emails in EML format to a directory on your PC. Email clients such as Apple Mail, Microsoft Outlook, etc. support export functions that can be used to save an email message or create a backup copy of the entire message, email addresses, header information, timestamps of the sent email and the tagged attachment.
Unlike installed email clients, a web-based email such as Gmail does not support an export function. However, you can save an offline message as an .EML file that can be used in any other mail client, such as Mozilla Thunderbird, Microsoft Outlook (Microsoft Office) and others.
To download a Gmail message to the PC, you must save the email in a file format called an EML file. EML (Email message files) is a file format used by major email clients such as Microsoft Outlook, Mozilla Thunderbird, Live Mail client and Outlook Express. EML files save the entire message, attachments, email addresses and header information on your hard drive or directory, which can then be easily opened in most email clients.
Open the Gmail interface and then open the email you want to save as .EML.
In the upper right find three dots, and click there to see the option 'Download message', as shown in the image: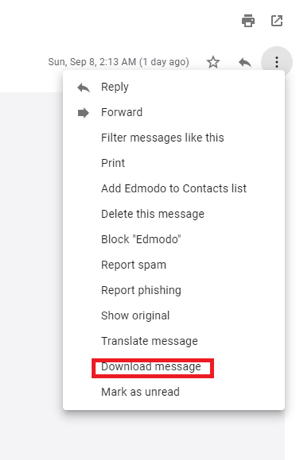 In most modern browsers, the file is automatically downloaded, and the file name is assigned to match the original subject of the message.

In Microsoft Windows environments, this file can be found in the download folder:

From here it is possible to transfer it to any directory, as if it were a regular file, like copying to a backup folder created on an external drive.
To open and work with the .EML file, in offline mode, you can use many tools. For example, if you already have Apple Mail, Mozilla Thunderbird, Microsoft Outlook or Outlook Express installed, the .EML extension is automatically associated with the software and you only have to double click on the file in Windows Explorer or Mac OS Finder, and it will open the application, as shown below.