How to save an email as an EML file from Gmail?
Did you know that you can export individual messages as EML files (as a backup or to open them in email programs) from Gmail?
This task will be useful for the following:
You need a copy of an important email offline.
Forward a message as an attachment to Gmail on the web.
Move only one email from a Gmail account to your desktop email program without configuring IMAP access or forwarding it online.
Analyze the encoding of the mail to detect possible malware or viruses.
While there is no "Save as…" command in Gmail for an email or a conversation, it is still possible to save an email as EML file.
These are the steps to save an individual email message as an EML file in Gmail:
Open the message in Gmail.
In the upper right corner of the email view, you will find three dots that once clicked will open the menu. In the menu you will need to click 'Download message'
The message will be downloaded automatically with the .EML file extension.
Now, if you want to see the source code of the messages, then follow these steps:
In the same three dots menu mentioned above, there is a 'Show original' option, clicking there will show a window similar to this one: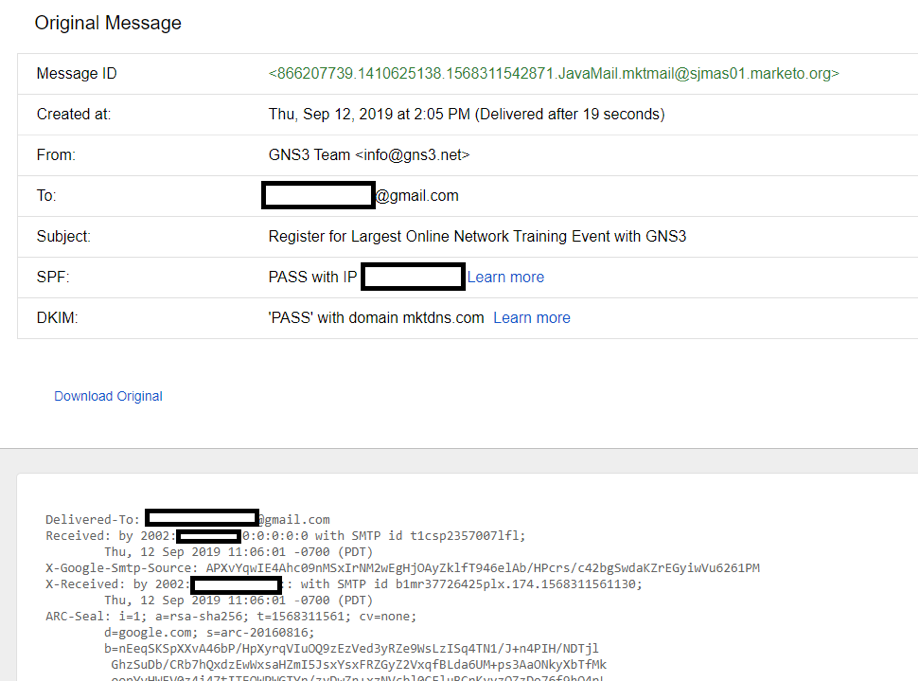 In the "original" view we can see a header section with following fields:
The unique Message ID.
The creation date and the transit time of the mail.
The source email address.
The destination email address.
The subject of the mail.
The sender's IP address.
The DKIM anti spoofing of mail.
After the header you can see the full body code of the mail, which you can copy to the clipboard and paste it into a notepad file. In that code you will find absolutely all the information related to the mail, including the attached files.
Once the code is copied and pasted into a notepad file, you can save it with the extension .EML as shown in the following image:

EML file could be opened in any email client compatible with this extension, as we can see below: